Hours
Center Hours
Sunday

11am-7pm

Monday

10am-9pm

Tuesday

10am-9pm

Wednesday

10am-9pm

Thursday

10am-9pm

Friday

10am-9pm

Saturday

10am-9pm
* Restaurant hours may vary
Mon - Sat: 10am - 9pm
Sun: 11am - 7pm
---
Directions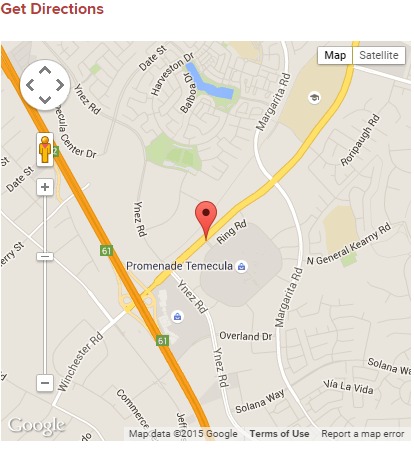 40820 Winchester Road, Suite 2000
Temecula
CA, 92591
951.296.0975
---
Guest Services is located on the Upper Level near Sears and offers the following amenities and services. Please feel free to contact us at (951) 296-0979 with any questions.
ATM
Copy/Fax Services
Employment Listings
Free Wi-Fi
Gift Cards
INsider Program
Local Attractions Visitor Info
Lost and Found
Lottery Tickets
Postage Service
Store Directory
Stroller Rental
Transportation Schedules
Tylenol Sales
Wheelchair Service
CODE OF CONDUCT
Promenade Temecula is committed to providing an enjoyable shopping experience for our guests. When visiting the mall, please be aware of our Code of Conduct.